Have You Reached the LinkedIn Invitation Limit? Here's How to Solve It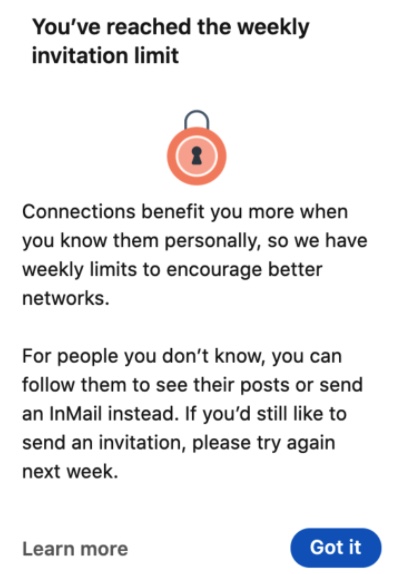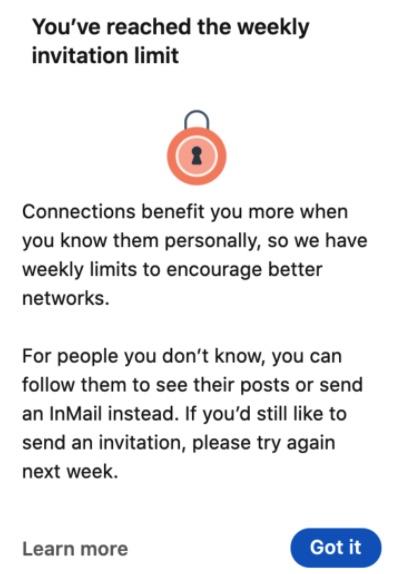 While trying to send an invitation on LinkedIn, you receive this error message. The notification reads: 'You've reached the weekly invitation limit."
In March of 2021, LinkedIn users began reporting a new weekly limit for how many invites (connection requests manually or by automation tools) they could send per week. Connections benefit you more when you know them personally, so we have weekly limits to encourage better networks. For people you don't know, you can follow them to see their posts or send an InMail instead. If you'd still like to send an invitation, please try again next week.'
Rather than a penalty against a user, this is simply a platform-wide limitation. LinkedIn has been fighting against platform abusers, so this is just another attempt to protect their users from spam and maintain their reputation as a professional platform.
From our own anecdotal evidence, the limit for sending invitations appears to be roughly 100 per week for paid accounts, but LinkedIn does not make this information public. Unfortunately, users must wait at least one week before they can begin sending invitations.
After having researched this update, and its propagation within our user- base, we are now able to summarize this update:
Applies to all users
Does not depend on your performance (acceptance rate, responses to messages)
Does not depend on the size of your network
Does not depend on the number of pending requests sent
Applies to both standard and premium users as well as Sales Navigator. No LinkedIn subscription will allow you to send more invitations
Reduces the number of connection requests that users can send to around 100 per week
Users aren't notified when they can begin sending again, so it's best to continue testing to find when you're allowed to invite again.
Potential Solutions and Tools
However, there does appear to be a way to work around this invite limit – you can use Invite person by email action in order to send invitations by importing profiles' emails directly into LinkedIn. The process of setting this up can be complex, but Linked Helper provides a comprehensive step-by-step guide. This strategy requires some technical knowhow, but please do not hesitate to reach out to our team for assistance. 
What you can do right now:
At this moment you can still send approx. 15-20 per day until lifted – in some cases after 3 to 4 weeks your invites limitation will be increased or lifted but not guaranteed
We recommend nurturing your existing connections with follow-up sequences
During this process, we also recommend sending up to 30-40 Open in-mails
Send up to 50 group member messages and follow-ups
Send up to 50 event-based triggers
Connect your CRM natively to nurture inbound leads
Please contact us if you'd like to learn more about how to use LinkedIn automation tools and how each one may help you grow your sales. These time-saving lead generation tools can make a big difference for a small business.
Take a Refined Approach Focusing on Quality
Instead of getting frustrated or relying on loopholes, we can easily refine the approach to connecting and growing your networks. The best way to make the most of out your invites is to focus more on active users who are more likely to both accept your invite and reply. Social networks benefit users when interaction and engagement occur. Large networks mean nothing when engagement is low, leaving the network itself redundant for members. When building a network, focus on quality contacts that are likely to interact and spark conversations, sales or form beneficial relationships.
Here are a few ways to find the most active users:
Use the LinkedIn Sales Navigator search parameter 'posted on LinkedIn in the last 30 days'
Connect with individuals who engage with a post
Save a search in LinkedIn Sales Navigator, set your 'Alert Frequency' to 'Weekly'
Only connect with the first 30% of search results
Join industry-specific groups and connect with those who engage most frequently
Use Your Content to Attract Followers
Rather than sending invites, you can share compelling content to inspire connection. This could consist of sharing a regular blog post if you publish one, but you need not create a blog to attract attention. Active users that regularly pose industry-specific questions typically get a healthy conversation from connections, and your post always has the chance of going viral. Other easy content creation strategies include reposting blogs with your own commentary, creating polls and sharing photos. Proving that you can be a valuable connection is the key here.
Another content strategy relies on cross-posting from other networks like Facebook or YouTube that would lead users to your LinkedIn account. With YouTube, posting short videos with a call to action to visit your LinkedIn account could lead to a few invitations, but a less intensive strategy would be to ensure that your website, email signature, and other social accounts all include links to your LinkedIn account. If you cannot invite others to connect, you must prove that you're a beneficial connection.
Remember: Quality Over Quantity
To be frank, if sending hundreds of LinkedIn requests per week is your strategy, it might not be sustainable for the long run. Having a lot of connections is great, but quality connections make the most difference. When you're operating on LinkedIn, you're performing as a brand. You want to be strategic with who you connect with. Your network reflects your company's values, goals, and prestige. Building a solid network doesn't happen overnight, it takes years of meaningful connection. By taking the time to send invitations to quality partners, you can build a smaller but more beneficial network. What is the point of having thousands of connections if they can't drive your business further?
LinkedIn has drastically reduced the number of connection requests you can send out manually, and with automation tools. Take this new limitation as a simple reminder to rethink the way that you network. Slow down and consider who you'd like to bring into your circle.
Please contact us for more LinkedIn strategies to grow your business and expand your sphere of influence!