5 Ways to Unlock the SEO Potential of TikTok and Instagram B2B Marketers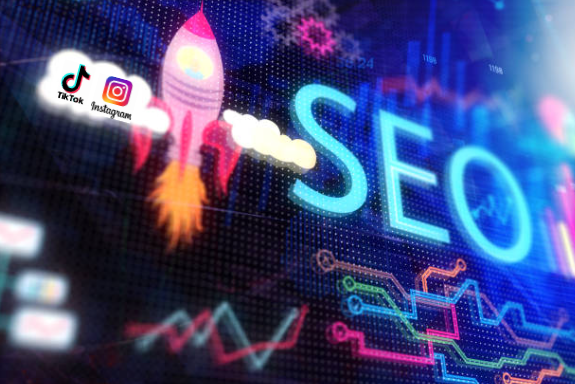 As digital marketing experts, we understand the importance of search engine optimization (SEO) for B2B marketers. SEO is an essential element of any digital marketing strategy as it helps businesses to improve their visibility on search engine result pages (SERPs) and drive organic traffic to their website. While TikTok and Instagram are traditionally seen as social media platforms for B2C brands, there are ways B2B marketers can leverage these platforms to improve their SEO – specifically by viewing these platforms as search engines, not social media platforms.
It's been reported that younger consumers like Gen Z are increasingly turning to social media platforms like YouTube, TikTok, and Instagram as search engines to find new products and services.
According to Google, 40% of 18 to 24-year-old users go to TikTok or Instagram when they are looking for a place for lunch, rather than Google Maps or Search. Additionally, 58% of American teenagers ages 13 to 17 visit TikTok at least once a day, and 16% access TikTok "almost constantly," according to research conducted by Pew Research Center this spring. This translates to ad revenue of nearly 6 billion – more than Snapchat and Twitter combined. This also spells serious trouble for search engines like Google and SEO strategists worldwide.
Here's a few more stats to help you understand how truly disruptive TikTok is, and will become soon:
TikTok surpassed Instagram in the 1st quarter of 2022 with 3.5 billion downloads
TikTok is the only app with 3.5 billion downloads while not being owned by Meta
The US has the largest TikTok audience in the world
Kids spend 62% more time watching TikTok than Youtube
29% of users access the app daily, and the average user spends a whopping 95 minutes per day on the app
Instagram is the 2nd most preferred platform when it comes to customer service
Adults spend 30 minutes per day on Instagram
People aged between 18 and 34 make up 60% of Instagram's audience
Per Instagram data, 50% of users become more enticed in a brand after they view an ad for it on the platform
You probably know someone that has purchased a product they found on TikTok or Instagram, or perhaps have heard the phrase, 'TikTok made me buy it!'. Content creators on these platforms are now optimizing posts to gain more visibility, and for B2B marketers, this means you have an opportunity to gain traction on the ground floor of these platforms before the generational shift truly turns.
Speaking of generational differences, as of March 2022, 61% of US internet users ages 16 and older begin online product research with Google or YouTube, while just 6% start with Facebook, Instagram, or Pinterest. So, while TikTok and Instagram don't yet make the bulk of searches, you shouldn't wait around doing nothing to tweak your SEO strategy. Videos mentioning TikTok SEO have recently gained view counts that have risen into the billions. Better yet – you don't need a large following to achieve high engagement on TikTok, as your follower count and previous engagement do not factor into TikTok's algorithm.
Follow some SEO tips and tricks below to start gaining traction on these quickly-growing social media platforms!
Use #hashtags
Both TikTok and Instagram allow users to add hashtags to their posts. Hashtags are a great way to increase the visibility of your content and improve your SEO. When you use hashtags, your content becomes discoverable to users who are searching for those keywords. For example, if you are a B2B software company, you can use hashtags like #softwaredevelopment, #enterprise, and #B2B to reach your target audience.
By using relevant hashtags, you can improve your chances of getting discovered by potential customers. Another benefit of utilizing hashtags is networking – when you run a search on a hashtag you may find like-minded people or organizations that you can learn from. Searching into hashtags that relate to your field or industry is also a great way to monitor what kind of content is trending and what is not. Consider hashtags as a great resource for finding influencers and generating engaging topics.
Create engaging videos
TikTok is a video-based platform that allows users to create short, engaging videos. Instagram also has a video feature that allows users to create and share videos on their feed, stories, and IGTV. Videos are an excellent way to showcase your products or services and engage your audience and there are many ways to quickly create engaging videos, no matter what your product or service might be.
We suggest you follow trending videos as these already contain trending content and hashtags that would allow you to ride a wave of interest. If you don't have the time to follow trends, you can always share company values in a creative way, share quick tips about your industry, educate followers on your products using video 'test drives', or simply reach out and ask what your followers would like to see from you. Just remember to keep your content short and digestible.
Collaborate with influencers
Influencer marketing is a popular strategy for B2C brands, but it can also be effective for B2B marketers on TikTok. Many businesses have successful TikTok accounts, and they often solicit the help of influencers to spread their message further on the platform. You don't need someone with millions of followers, sometimes finding someone with a very niche audience can help your content perform better.
For example, if you are selling digital marketing products or tools, find a niche SEO influencer and allow them to review your products. Conversely, if you have businesses that are fans of your product or service, engage them to create content on your behalf. Starting in your niche will allow your message to grow more naturally, and can also have a ripple effect in terms of reach. TikTok is all about sharing and embracing new ideas and having fun. Don't be afraid to reach out and ask others to help boost your brand!
Add links to your website (and vice versa)
Both TikTok and Instagram allow users to add links to their profile or bio. B2B marketers can use this feature to drive website traffic and improve their SEO. By adding a link to your website, you can encourage users to visit your site and learn more about your products or services. When users visit your site, it sends positive signals to search engines, which can help improve your rankings. When you share short, engaging videos, remember to encourage your audience to visit your website.
The most effective way to make sure you're drawing users to your site is sharing some information in a quick video, but explain that there is a blog post or white paper with all of the information available to them. Conversely, include links to your social media channels on your website. This is always recommended, but especially if you're featuring different content on your social media channels that would not be found on your website.
Use Instagram and TikTok to showcase your brand personality
B2B marketers can use Instagram and TikTok to showcase their brand personality and engage with their audience. By sharing behind-the-scenes content, company culture, and employee stories, you can humanize your brand and build a strong connection with your audience. When users feel connected to your brand, they are more likely to engage with your content and share it with their network, which can improve your SEO. More and more, people are not drawn to purchase from a billboard or an ad, they want to buy from people like themselves. This is why TikTok and Instagram can be so effective – the ability for storytelling and brand-building is huge. When you post success stories or reveal bits and pieces about yourself and your brand, consumers will eventually buy in.
Finally, be sure to track your efforts and monitor your results. Posting regularly and seeing how/if your reach is growing is an easy way to analyze results. You don't have to be an SEO expert to ensure you're making progress. Gaining followers, likes, reposts, shares, and click-throughs is a good sign that your content is reaching the right audience.
If you're unsure how to approach these new platforms, you're not alone. We have consulted with many medium and small business owners in the Denver area, helping them improve their digital marketing and grow their sales. Contact us today to maximize your digital advertising, improve conversions and improve your overall B2B marketing strategy!